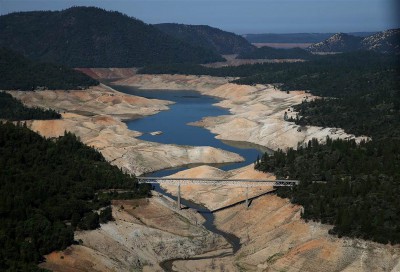 Posted by Neno Duplan
California's drought prompted the Legislature into action in 2014, leading lawmakers to regulate groundwater for the first time. The state will begin the long process of regulating groundwater for the first time in the state's history under three new laws that require local agencies to create sustainable groundwater management plans to ensure priority basins are sustainable by 2040.
Since the state's founding, water has been considered a property right; landowners have been able to pump as much water from the ground as they want. But increasing reliance on underground water, particularly during droughts, has led to more pumping from some basins than what is naturally being replaced.
On 16 September 2014, California Governor Jerry Brown signed three companion bills, The three bills: SB 1168, AB 1739 and SB 1319, which compose the Sustainable Groundwater Management Act (the Act) create the first comprehensive framework for regulating groundwater in California, placing managerial and monitoring responsibilities in the hands of local agencies while also creating mechanisms under which state agencies may oversee and potentially even intervene in groundwater management. With the Act to go into effect on 1 January 2015, and numerous implementation deadlines, stakeholders throughout the state should prepare for increased regulation, management, and oversight.
The Act requires the establishment of groundwater sustainability agencies (GSA) for groundwater basins in the state. By 31 January 2015, the Department of Water Resources (DWR) will classify each groundwater basin (as identified by DWR Bulletin 118) as high, medium, low or very low priority. GSAs responsible for high- and medium-priority groundwater basins must create and implement a groundwater sustainability plan (GSP) for their basins. Groundwater basins, or portions of groundwater basins, which are subject to a previous groundwater adjudication are exempt from the GSP requirement.
Once formed, GSAs will have broad groundwater management and investigatory powers to prepare and execute the GSP. GSAs may inspect property or facilities to ensure the requirements of the GSP are being met, including use of surface waters. Further, the GSA will have the authority to regulate and limit groundwater extractions, require the submission of annual extraction reports or impose well spacing requirements, among other substantial powers.
The Act requires that GSPs be designed to achieve "sustainable groundwater management" for the basin within 20 years of implementation. "Sustainable groundwater management" is defined as the maintenance of groundwater use in a manner that does not cause "undesirable results." An undesirable result is the occurrence of at least one of the following:
Chronic lowering of groundwater levels, indicating a significant and unreasonable depletion of supply.
Significant and unreasonable reduction of groundwater storage.
Significant and unreasonable seawater intrusion.
Significant and unreasonable degradation in water quality.
Significant and unreasonable land subsidence that substantially interferes with surface land uses.
Surface water depletions that have significant and unreasonable adverse impacts on beneficial uses of the surface water.