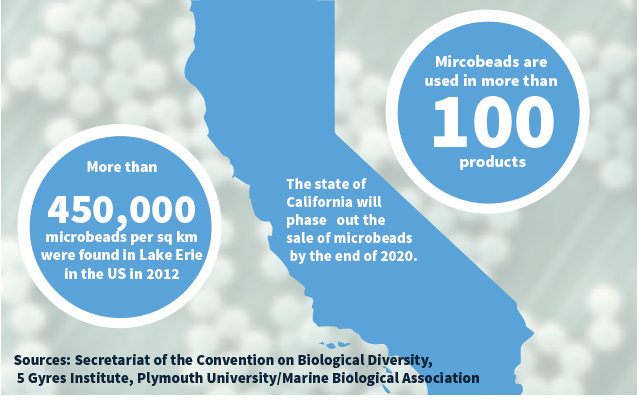 Posted by Neno Duplan
California approves AB888, an important bill to prohibit the use of plastic microbeads in personal care products for sale in California by 2020. When someone uses a product – like a face wash, for example – that has microbeads, several things happen. First – they get a unique kind of cleanse in their face that beauty companies suggest they can't get any other way. Second – the microbeads (tiny pieces of plastic) are washed down the drain with water. These microbeads do not get recycled. They do not get caught in filters before they hit the sea. They pollute.
With two just-released studies showing overwhelming levels of plastic pollution in San Francisco Bay and in Half Moon Bay's marine life, it's not an exaggeration to say that this bill will have a huge impact on the health of California's waterways — and its people. Alaska, Hawaii, Iowa, Minnesota, New York, Vermont, and Washington also tried and failed this year to enact bans on manufacture and sale, while Oregon's legislature is considering similar bans.
Studies found that San Francisco bay is contaminated with tiny pieces of plastic in greater concentrations than other U.S. bodies of water — at least 3.9 million pieces every day. Many of those plastic particles are tiny microbeads, less than one millimeter in diameter, which can be found in personal care products like shower gels, facial scrubs and toothpaste.
AB888 will ban the beads by 2020. Product manufacturers can use other exfoliants that aren't as environmentally destructive, and increasingly, states are demanding that they do so. Six other states have already passed legislation that bans or restricts their use.
In addition to the plastic polluting our waterways — there are 471 million microbeads released into the bay every day from wastewater treatment facilities, Gordon said — they also contaminate the fish that we eat. A recent study in the publication Scientific Reports found "anthropogenic debris" in 25 percent of the fish sampled at markets in California.