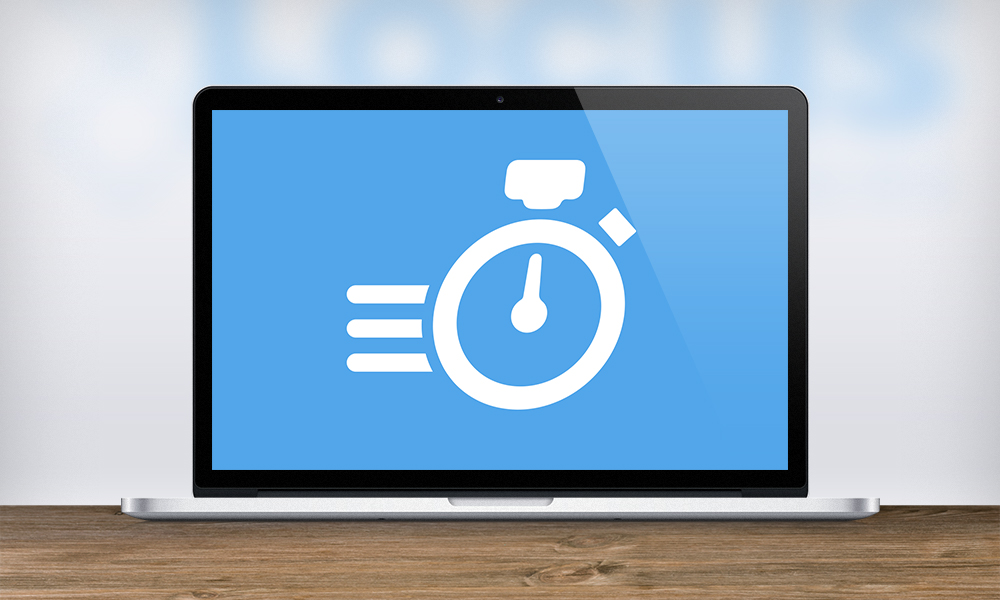 Posted by Locus Product Team
EHS software can be a boon or a bane of your life at work. Here are the 5 time- saving tools Locus's EIM provides that can be the difference between the former versus the latter.
1. Mobile
Do you enter field data onto a paper form, and then have to manually type it into a spreadsheet or database when you get back to the office?  Or have you ever been in the field and entered data into your remote mobile device and have lost the data due to the lack of internet signal? Locus' Mobile application allows you to sync with your server to create data collection profiles on a mobile device, whether it's your phone or a tablet. This application will allow you to click through and enter data on the device and store the data, even when you are offline. As a result, data only need to be entered once on your device, and then they are seamlessly loaded into your  cloud-hosted solution.
Using Mobile you have data entry directly on the mobile device, with immediate data availability on the cloud when you reach an internet signal. Other advantages include location metadata and mapping integration, bar-code/or code scanning, voice recognition and form customization. If you would like to know more, check out the Top 10 cool features in Locus Mobile.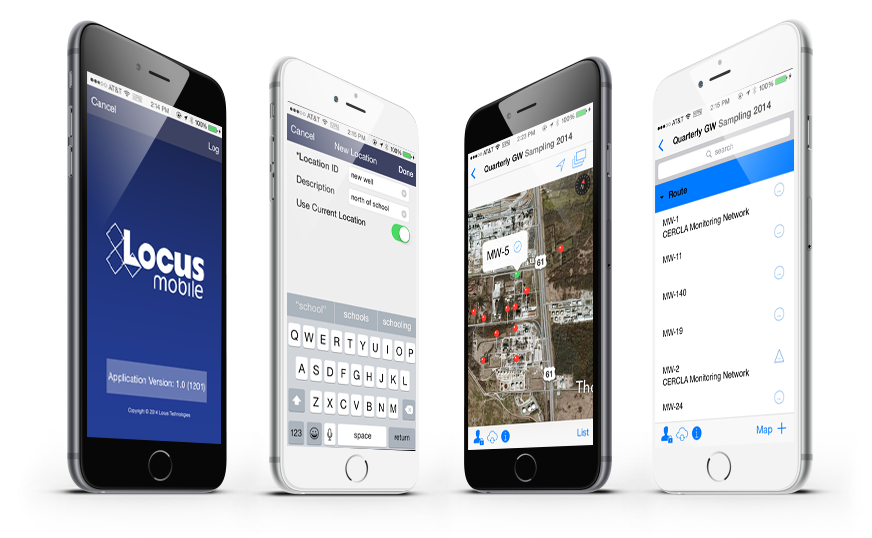 2. EDD Loader
With EIM's electronic data deliverables (EDD) loader, you can upload and validate several thousand records within a minute. Laboratories are not required to use the same reporting format, yet the results will still end up at the same place in the database where sample data came from. Locus EIM also has a special lab interface so that your labs (with your permission) can upload their own EDDs. You no longer need to spend time receiving and processing EDD files from your lab. The labs simply log in directly, upload your reports, and they are immediately available to you.
EIM provides you access to popular features such as a planning module, forms for entering field data, a utility to upload EDDs, built-in mapping tools, and an extensive reporting and plotting module. It also has a calendar module for viewing information on sampling events and uploaded EDDs, automated exceedance notifications, and sophisticated statistical evaluation tools designed specifically for environmental data.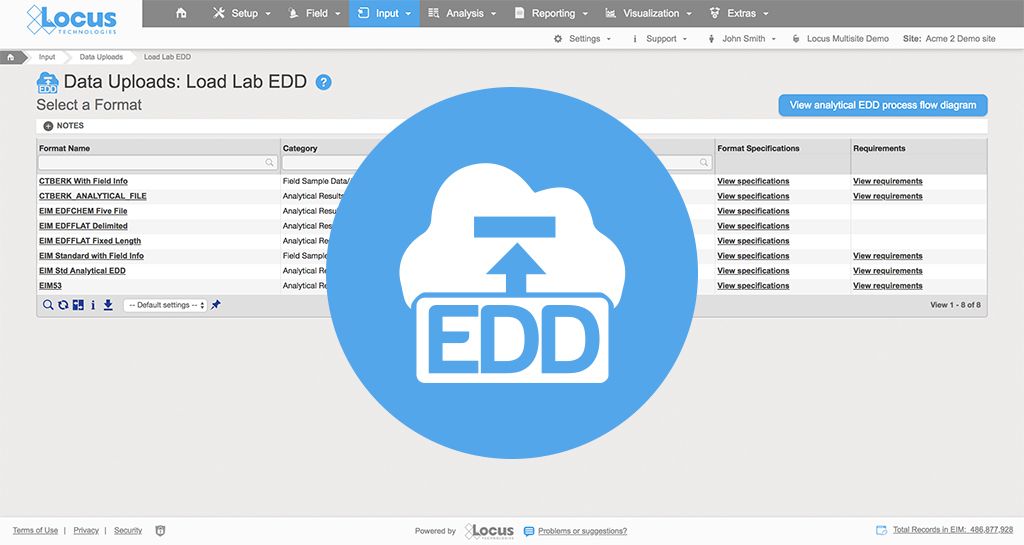 3. Sample planning
Setting up and implementing a complex sampling plan can be a time-consuming effort. Depending on the purpose and extent of the sampling plan, you may have dozens of analyses to complete at varying frequencies and locations.  You may also have multiple compliance programs with overlapping requirements.  EIM's sample planning can save you valuable time and effort by assembling your requirements into a concise calendar, preprinting all of your chain of custody records and bottle labels, and tracking the collection of samples from the field to the lab.  As an added bonus, the automation of this process ensures you'll never miss another required sample.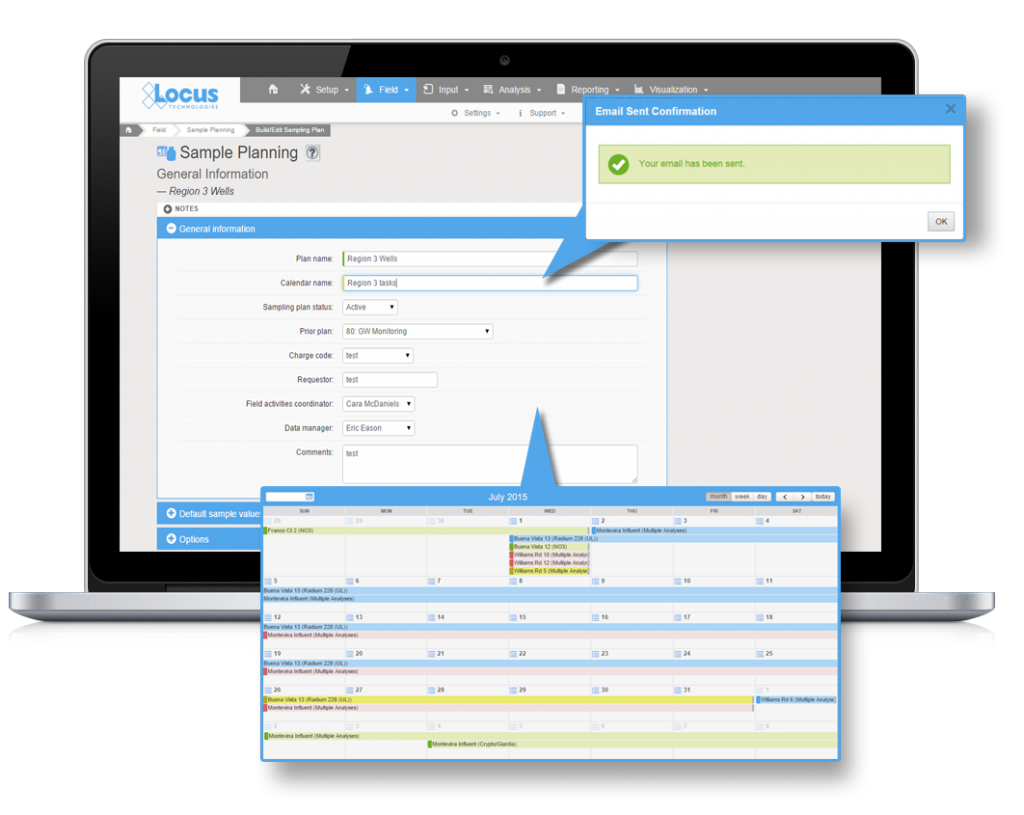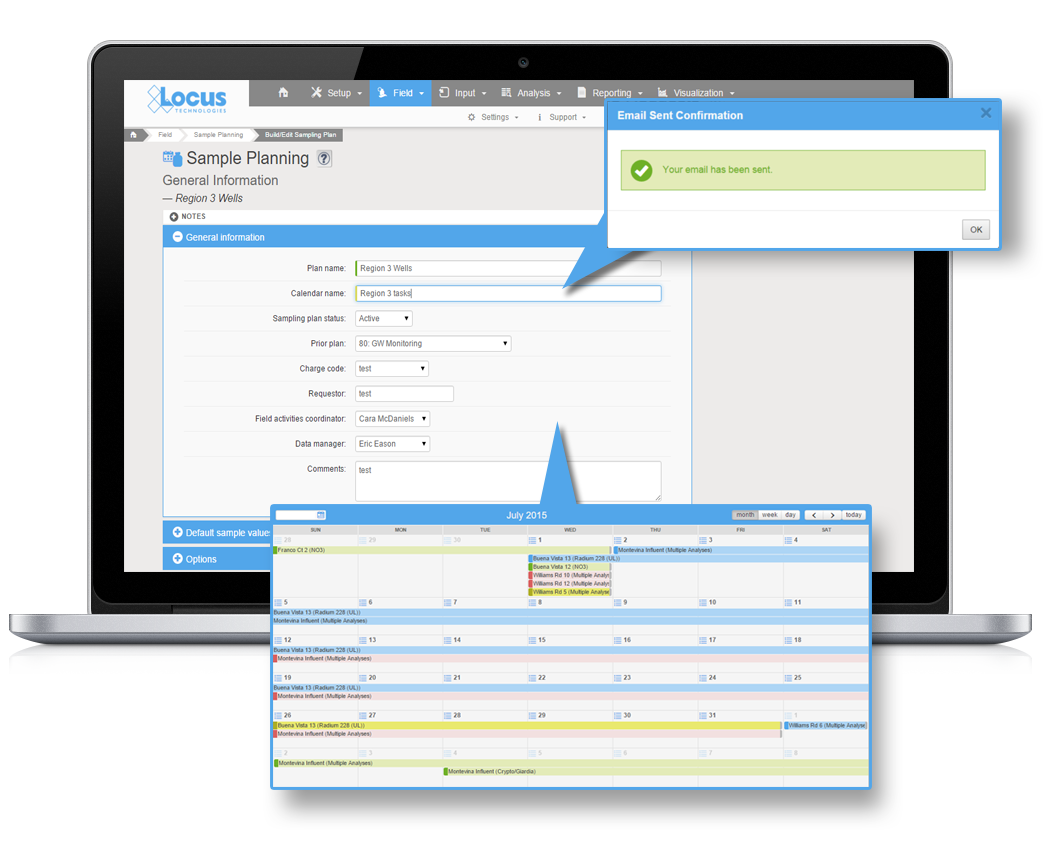 4. Discharge Monitoring Reports
Locus' EIM DMR tool solves the problem of time-consuming, labor-intensive, and expensive manual report generation by automating the data assembly, calculations, and formatting of Discharge Monitoring Reports.  Depending on the type of discharge and the regulatory jurisdiction, you may be required to report information such as analytical chemistry of pollutants, flow velocity, total maximum daily load, and other parameters. For companies that report from 100 to 1,000 facilities, producing a DMR also becomes a major expense.
Thanks to Locus' DMR reporting tool, companies can generate DMRs within minutes with validated data in approved formats, with all of the calculations completed according to regulatory requirements. Companies can set up EIM for its permitted facilities and realize immediate cost and time savings during each reporting period.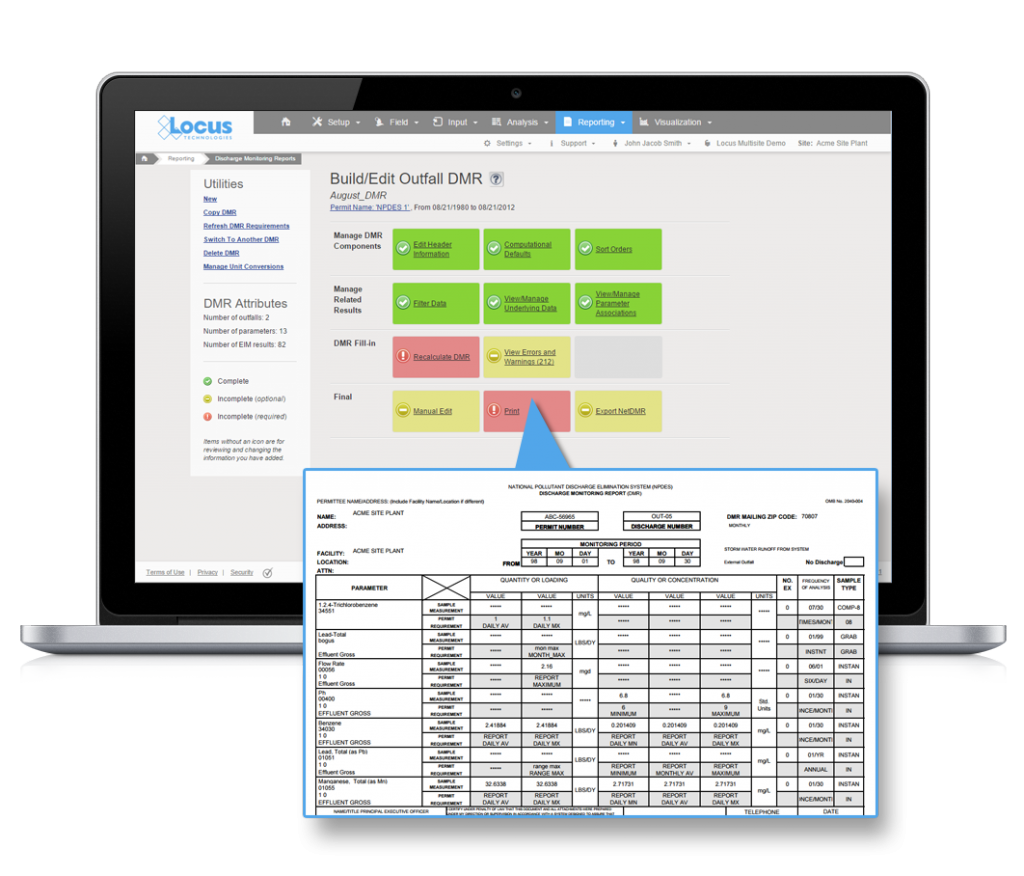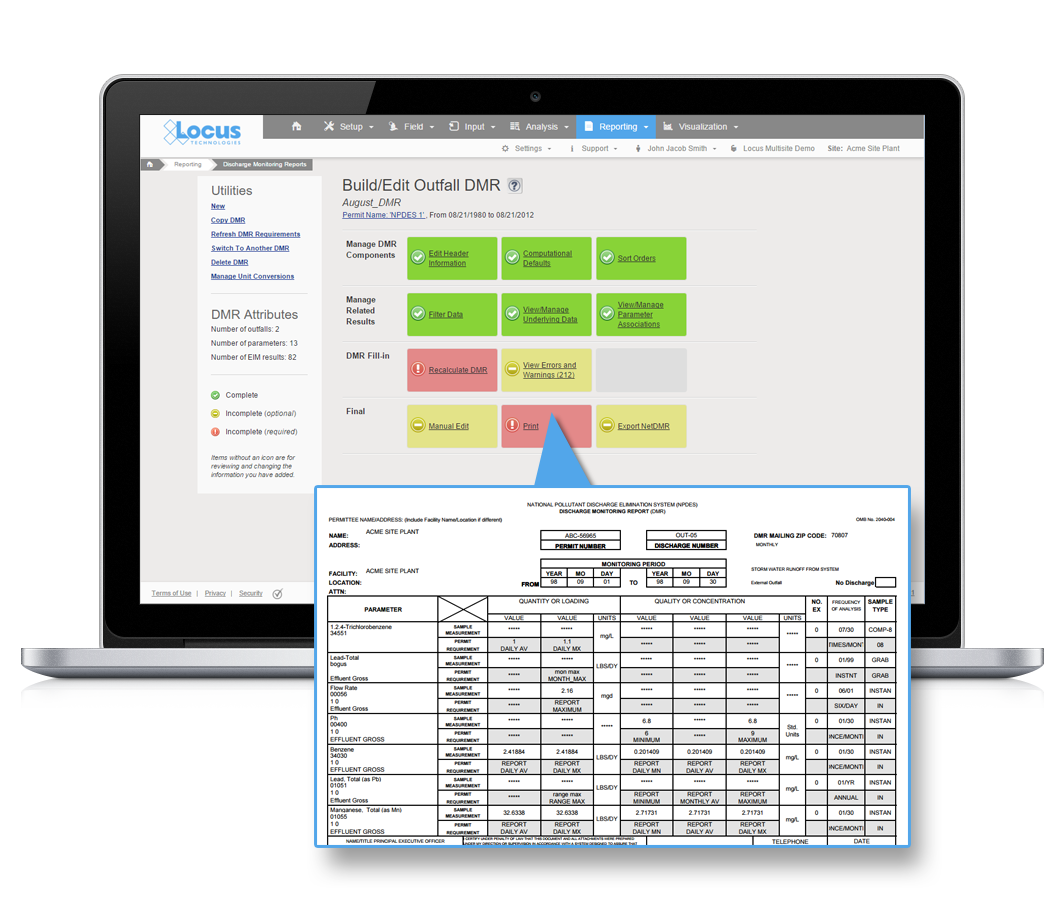 5. Formatted Data Tables
For most environmental database systems, getting the right data out is just the first step in assembling your reports.  Comprehensive systems rarely store data in a format that is ready to submit to a regulatory agency or other party.  Typically, you have a labor-intensive process of restructuring, labelling, footnoting, formatting, and paginating the data into tables that can be readily interpreted. EIM's formatted reporting tools allow you to set up any number of table formats with specific grouping, sorting, footnotes, headers, and other data processing steps.  Then you just select your data range, pick your format, and the table is ready to download or print directly from your web browser.  And if you make a mistake, the report can be instantly regenerated without any effort.