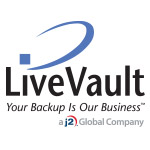 Locus Technologies will provide its customers with guaranteed recovery through LiveVault
---
MARLBOROUGH, MASS. AND SAN FRANCISCO, CA, 5 AUGUST 2003 — LiveVault Corporation® (www.livevault.com), the leading provider of fully managed online backup and recovery services for business servers, and Locus Technologies (www.locustec.com), the leader in information management technology for the environmental industry, today announced that Locus has selected LiveVault Online Backup and Recovery Service™ to protect its customers' critical environmental and business data. Locus Technologies' customers are a number of Fortune-500 companies who subscribe to LocusFocus(SM) to manage their critical environmental information through Locus's environmental portal.
"We are very pleased that our partnership with LiveVault will provide online backup and guaranteed recovery for our award-winning, web-based environmental information management portal, LocusFocus(SM) and EIM™," said Dr. Neno Duplancic, President and CEO of Locus Technologies. "Now, large enterprise environmental information management applications have fully secured, controlled, web-based solutions through LocusFocus and EIM™, that are fully protected by LiveVault against system failure, virus, human error or other disaster." Locus Technologies subscribes to LiveVault through channel partner US Data Trust (www.usdatatrust.com).
"It certainly demonstrates the value LiveVault's online backup and recovery service provides when a trusted provider like Locus Technologies trusts LiveVault to protect their customers' critical data," said Bob Cramer, president and CEO of LiveVault. "LiveVault's continuous online backup, and recovery guarantee, ensures that environmental and other data intensive businesses are always protected. Not just the data created last week, or last night, but the data created today, this minute, this hour." LiveVault's Online Backup and Recovery Service continuously backs up business server data via a secure Internet connection, and immediately stores it in an off-site Iron Mountain® (NYSE: IRM) facility, where it is available for immediate recovery in the event of a system failure, virus, human error or other disaster.
The LiveVault service is designed for customers with servers that reside outside of major data centers—such as remote or branch offices, or mid-sized businesses—and who have primarily relied on in-house tape backups to keep their data safe. Analysts estimate that nearly 50 percent of tape-based backups fail to restore properly, exposing these businesses to significant risk. Conversely, LiveVault guarantees recovery of all business-critical data
and allows companies to return to the state of their business prior to a data-loss event. For more information on LiveVault's data protection and disaster recovery solutions, please visit www.livevault.com or call (800) 638-5518. For more information on Locus Technologies solutions for the environmental industry, now with data protected by LiveVault, please visit www.locustec.com or call (925) 906-8100.
ABOUT LIVEVAULT
LiveVault Corporation is the leading provider of fully managed online data backup and recovery services. LiveVault automatically and continuously backs up server data, and protects it in a secure, remote Iron Mountain facility, and makes it immediately available for recovery 7×24. Through its partnerships with Iron Mountain (NYSE: IRM), Hewlett-Packard (NYSE: HPQ), Microsoft (NASDAQ: MSFT), and others, LiveVault helps ensure the business continuity of mid-sized businesses, as well as distributed offices of larger enterprises. Founded in 1993, LiveVault is based in Marlborough, Mass. For more information, visit www.livevault.com or call (508) 460-6670.