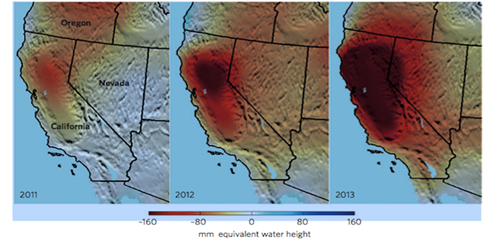 Posted by Neno Duplan
A new paper published in Nature Climate Change, by NASA water scientist James Famiglietti, presents the chilling reality of California's ongoing drought crisis. "The Global Groundwater Crisis," uses satellite data to measure the depletion of the world's aquifers, and summarizes the effects this has on the environment.
These aquifers contain groundwater that more than 2 billion individuals rely on as their primary source of water. Groundwater is also essential, as it is one of the main sources we rely on to irrigate food crops. In times of drought, the lack of rain and snow results in less surface water (the water that settles in lakes, streams, and rivers). Thus, farmers must rely on available groundwater to irrigate their crops, leading to rapid depletion in areas of high farming concentration.
California's Central Valley has been one of the most effected regions in the state. The map below depicts groundwater withdrawals in California during the first three years of the state's ongoing drought.
According to James Famiglietti, "California's Sacramento and San Joaquin river basins have lost roughly 15 cubic kilometers of total water per year since 2011."  That means "more water than all 38 million Californians use for domestic and municipal supplies annually—over half of which is due to groundwater pumping in the Central Valley."
As more water is pumped from the aquifers, things can only get worse. As this trend continues, wells will have to be dug deeper, resulting in increased pumping costs. This, in turn, will lead to a higher salt contents, which inhibits crop yields and can eventually cause soil to lose productivity altogether. Over time, Famiglietti writes, "inequity issues arise because only the relatively wealthy can bear the expense of digging deeper wells, paying greater energy costs to pump groundwater from increased depths and treating the lower-quality water that is often found deeper within aquifers." This problem is already apparent in California's Central Valley.  Some low-income residents are forced to let their wells go dry, while many other farmers are forced to irrigate with salty water pumped from deep in the aquifer.
The lesson we can learn from Famiglietti's research is that "Groundwater is being pumped at far greater rates than it can be naturally replenished, so that many of the largest aquifers on most continents are being mined, their precious contents never to be returned."  This problem of diminishing groundwater is perpetuated, due the lack of forethought, regulation, or research concerning this water source. Famiglietti contends that if current trends hold, "groundwater supplies in some major aquifers will be depleted in a matter of decades."
Without any change of practices, we can expect steeper droughts and more demand for water. Famiglietti suggests that if we ever plan on getting the situation under control, we must start carefully measuring groundwater and treat it like the precious resource that it is. However, if the globe continues on this path without any adjustment, it will most likely result in civil uprising and international violent conflict in the water-stressed regions of the world.