Posted by Locus Product Team
The ability to visualize your field and analytical data across maps, logs, and charts is a crucial part of managing environmental information. Locus makes it easy to visually display and export data for sharing in reports and presentations. We've compiled 7 of the most useful visualization tools in our environmental information management software.
Data Callouts
View your data in easy-to-read text boxes right on your maps. These are location-specific crosstab reports listing analytical, groundwater, or field readings. A user first creates a data callout template using a drag-and-drop interface in the EIM enhanced formatted reports module. The template can include rules to control data formatting (for example, action limit exceedances can be shown in red text). When the user runs the template for a specific set of locations, EIM displays the callouts in the GIS+ as a set of draggable boxes. The user can finalize the callouts in the GIS+ print view and then send the resulting map to a printer or export the map to a PDF file.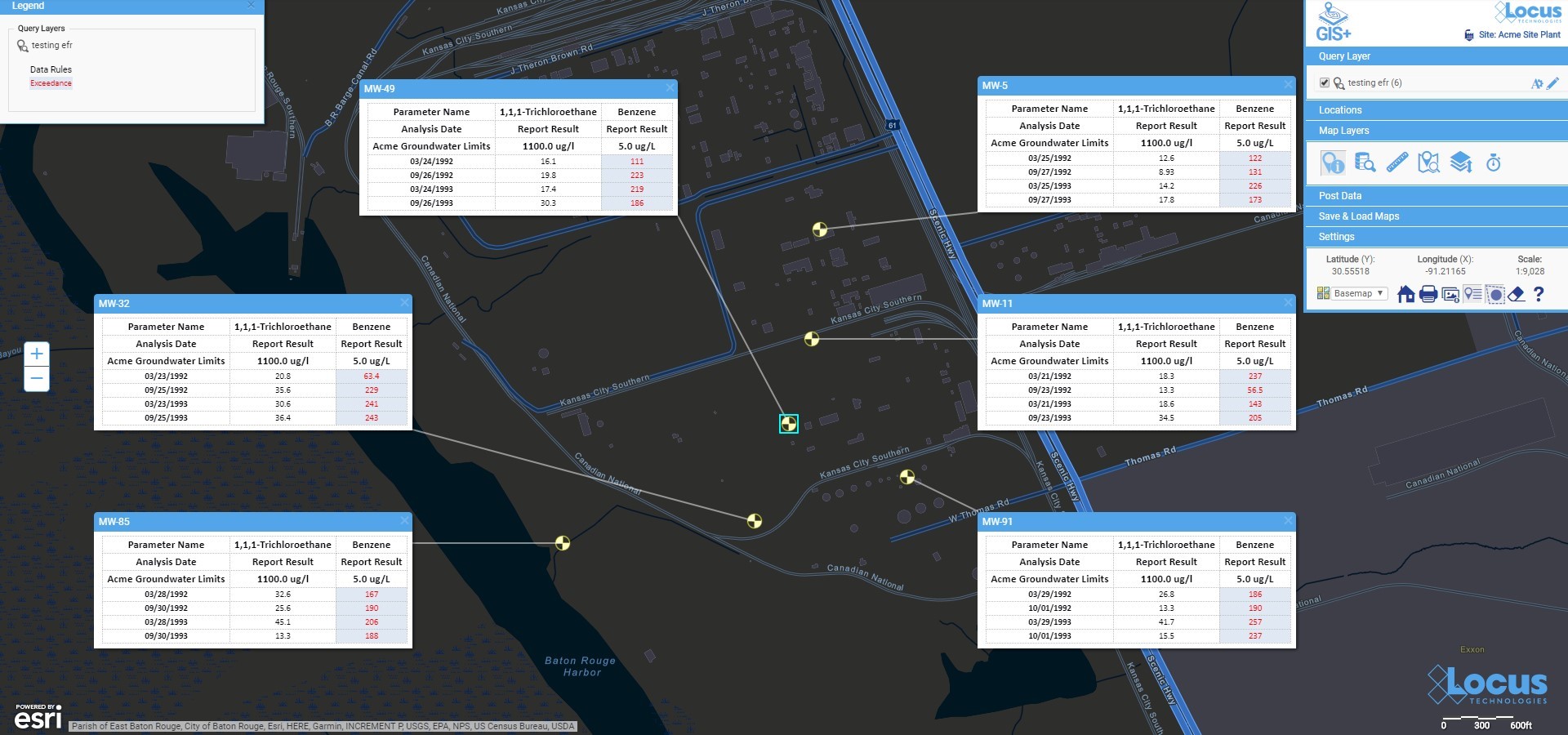 ---
Graduated Symbols
Locus GIS features high-quality and industry specific graduated symbols so that you can compare relative quantitative data on customizable maps. Choose graduated symbol intervals, sizes, and colors from a large selection of color ramps and create multiple layers for data analysis. It also features a location clustering option, ideal for large sites, a historical challenge for mapping.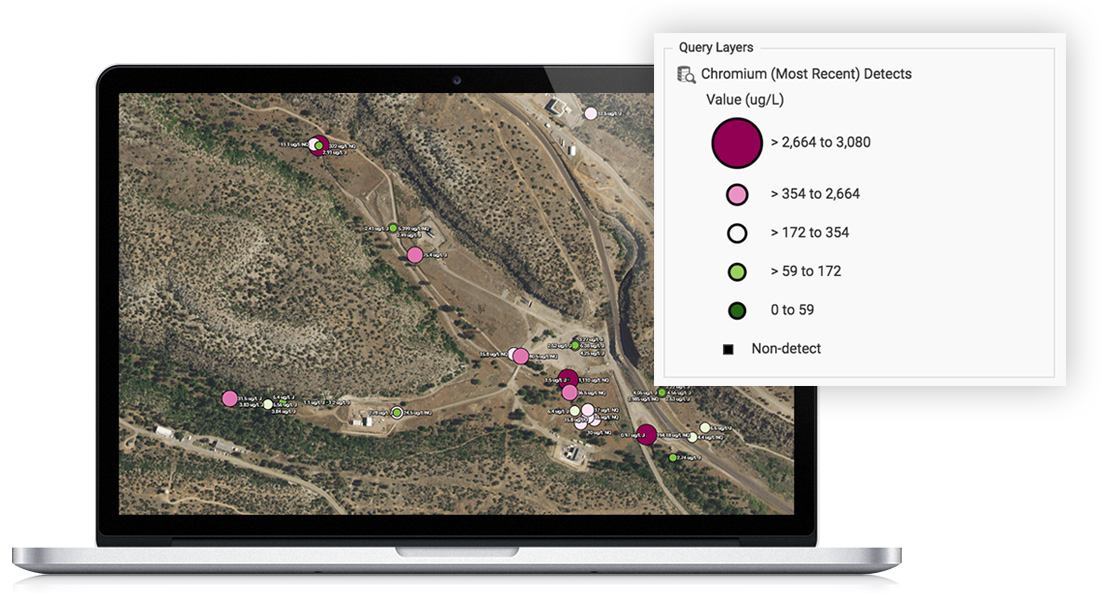 ---
Charting
Multiple charts can be created in EIM at one time. Charts can then be formatted using the Format tab. Formatting can include the ability to add milestone lines and shaded date ranges for specific dates on the x axis. The user can also change font, legend location, line colors, marker sizes and types, date formats, legend text, axis labels, grid line intervals or background colors. In addition, users can choose to display lab qualifiers next to non-detects, show non-detects as white filled points, show results next to data points, add footnotes, change the y-axis to log scale, and more. All of the format options can be saved as a chart style set and applied to sets of charts when they are created.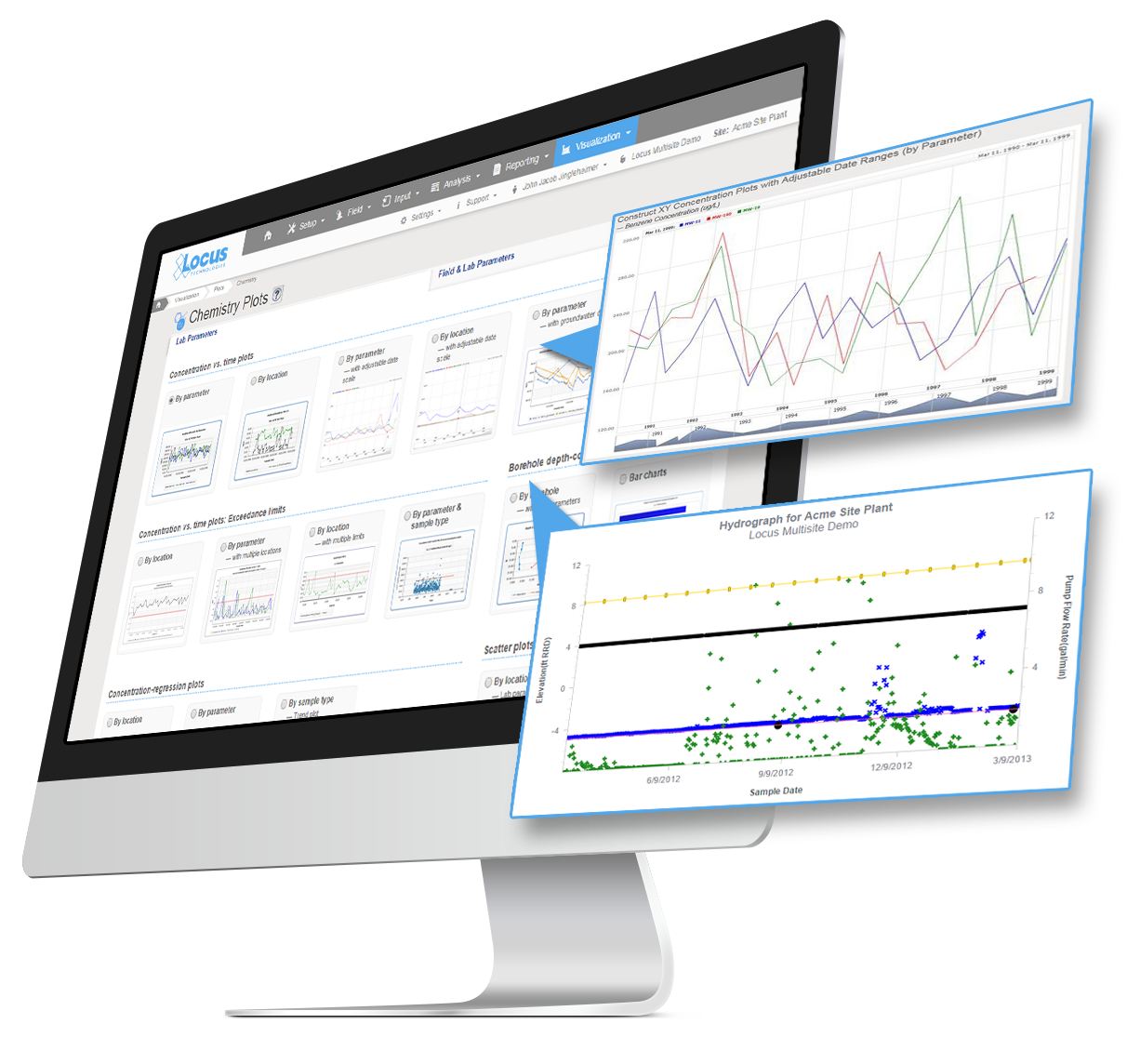 ---
Time Sliders
Locus has adopted animation in its GIS+ solution, which lets a user use a "time slider" to animate chemical concentrations over time. When a user displays EIM data on the GIS+ map, the user can decide to create "time slices" based on a selected date field. The slices can be by century, decade, year, month, week or day, and show the maximum concentration over that time period. Once the slices are created, the user can step through them manually or run them in movie mode.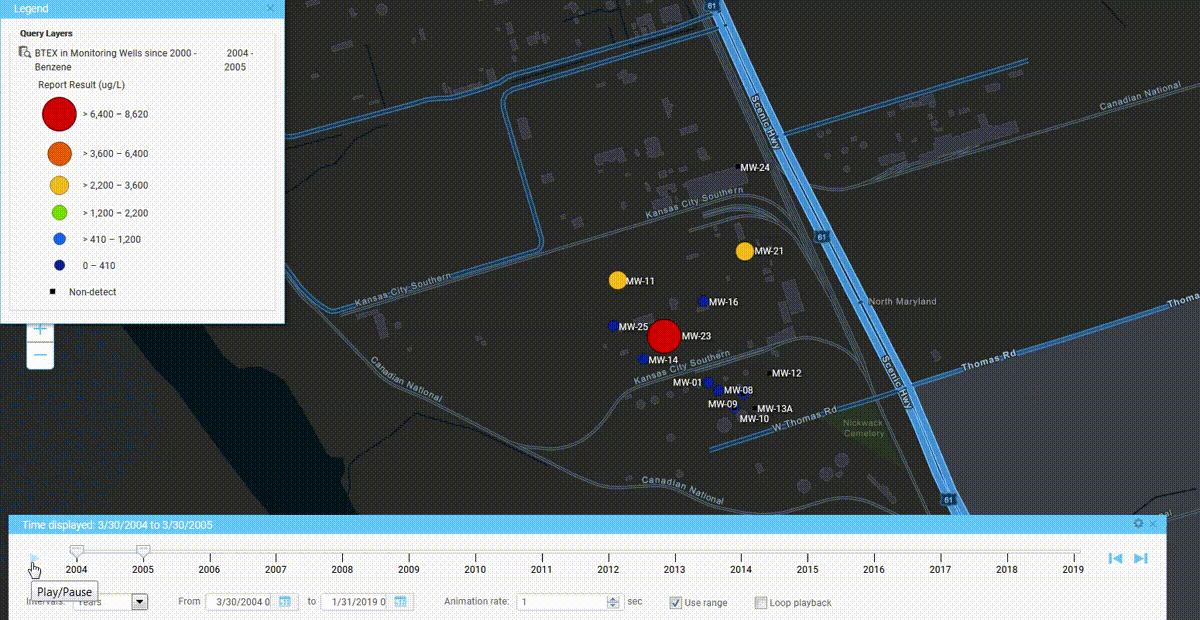 ---
Augmented Reality
Locate and identify inspection and/or monitoring locations on your mobile device. View real-time and historical environmental data to quickly find areas of interest for your chemical and subsurface data. Use your camera to get precise geotagged information for spills, safety incidents, historical chemical sources, subsurface utilities, or any other type of EHS data.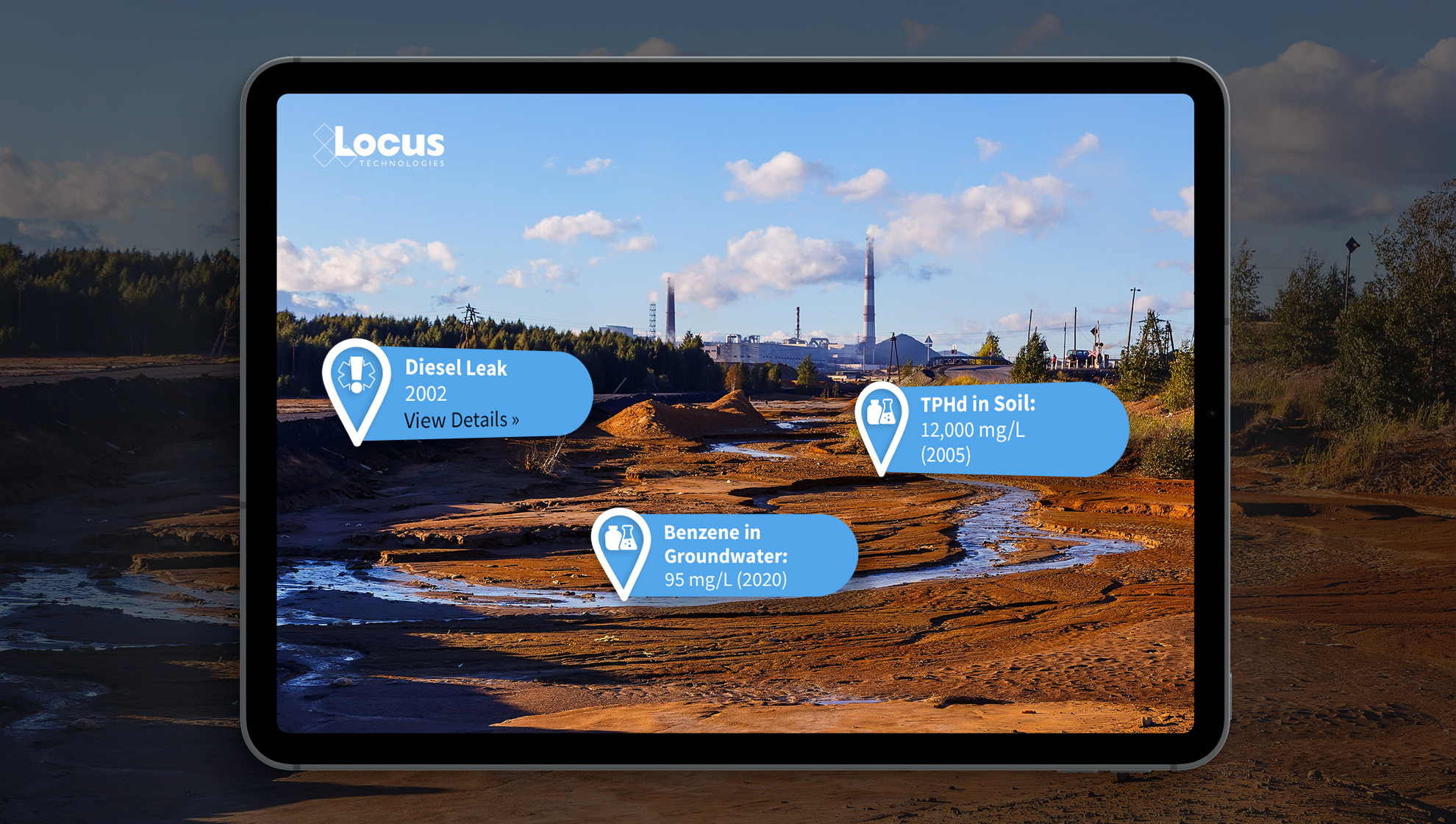 ---
Boring Logs
Create and display clickable boring logs of your sample data—using custom style formats and cross-sections. Show depth ranges, lithology patterns, aquifer information, and detailed descriptions for your samples.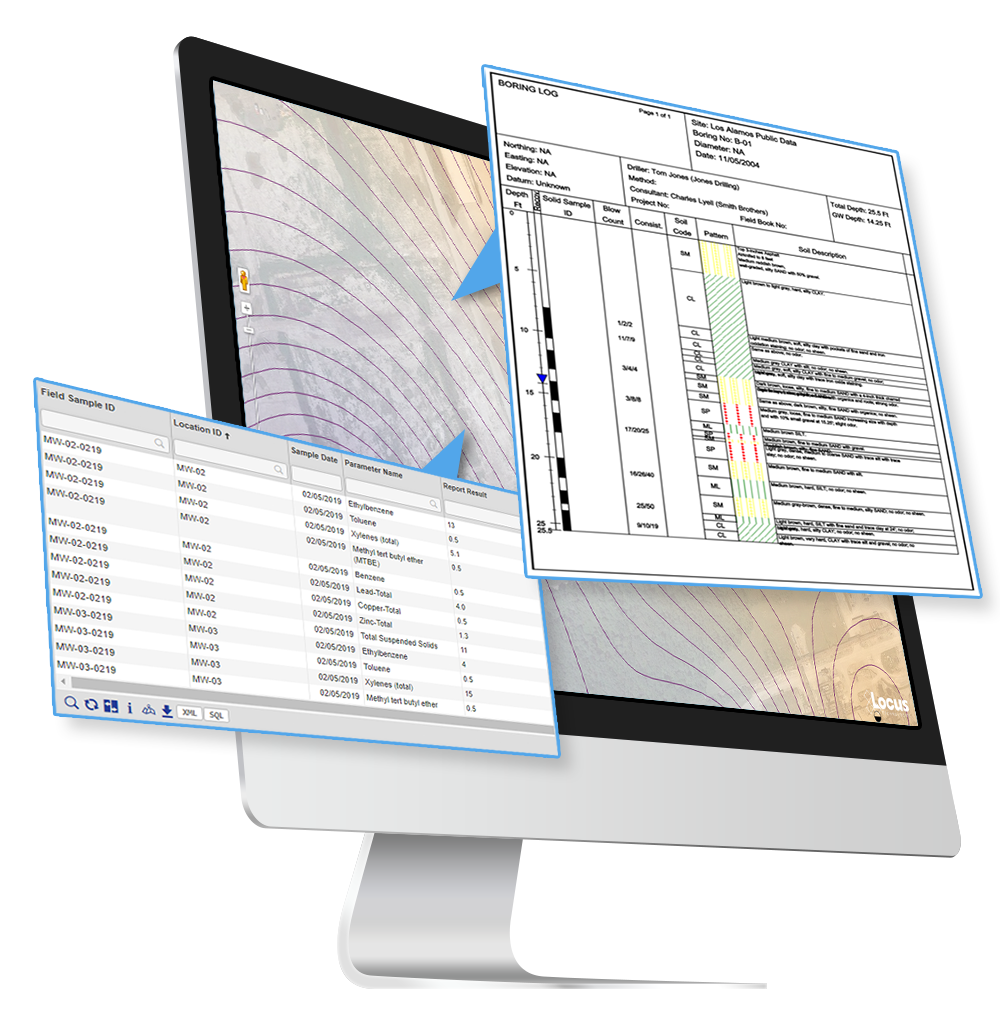 ---
Contours
Create and visualize custom contours using multiple algorithms. Because visualizations let you chunk items together, you can look at the 'big picture" and not get lost in tables of data results. Your working memory stays within its capacity, your analysis of the information becomes more efficient, and you can gain new insights into your data.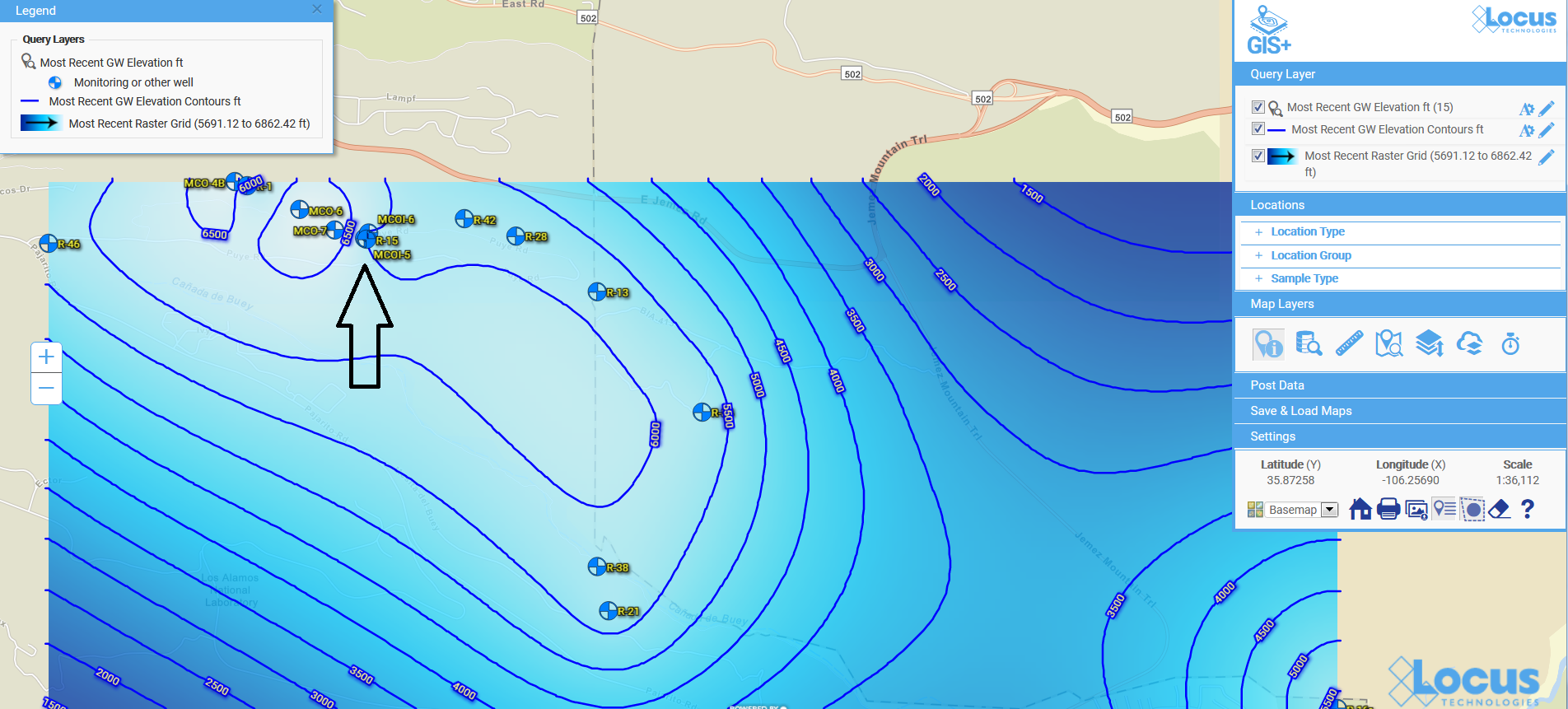 Contact us to see more
Send us your contact information and a Locus representative will be in touch to discuss your organization's environmental data management needs and provide an estimate, or set up a free demo of our enterprise environmental software solutions.