Posted by Locus Product Team
Locus Platform (ePortal)
Ahead of its time in 2002, Locus Platform (formerly ePortal) has seen a huge change over time from a simple portal at the beginning of the SaaS movement, to a fully configurable multi-tenant platform. Locus Platform (LP) houses any number of off-the-shelf and custom applications to meet EHS customer needs. LP is designed handle the ever-changing complexities of EHS information management and to adapt seamlessly to the integration and interoperability demands of today's modern users.
Whether you are designing your own app, linking with your corporate SAP system, or reporting data to EPA, Locus Platform's modern architecture represents state-of-the-art in EHS platforms.​
Locus Platform (ePortal) Then: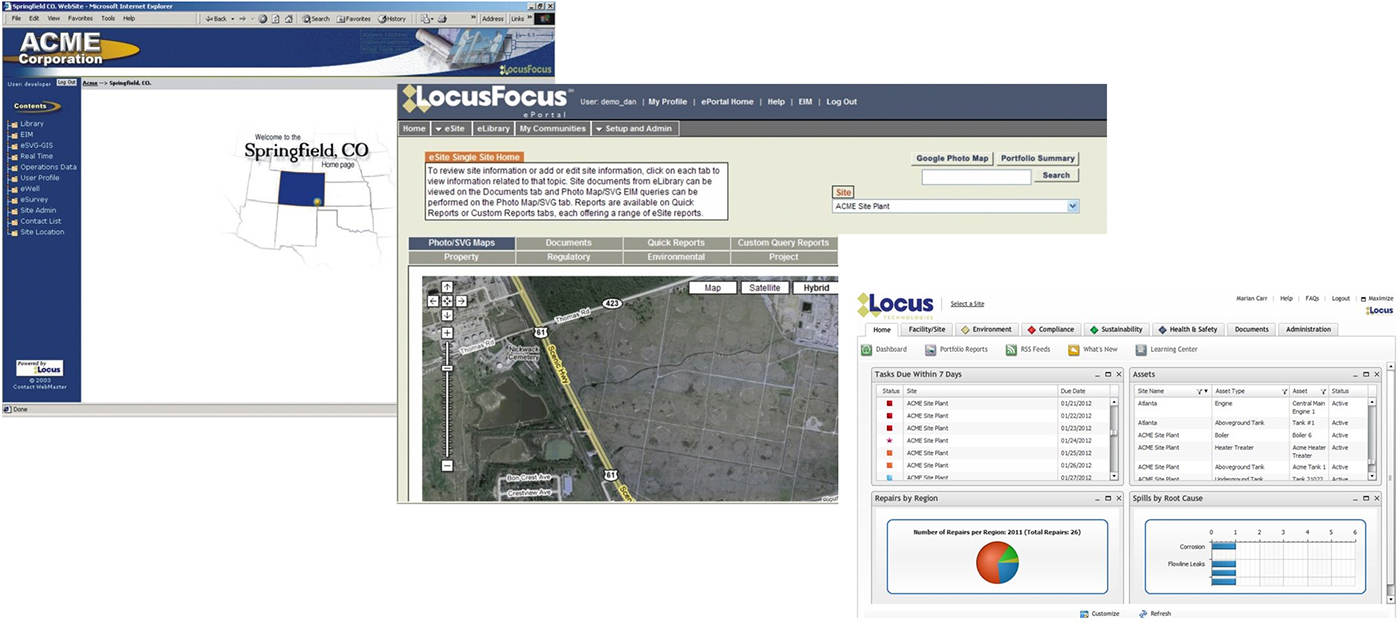 Locus Platform Now: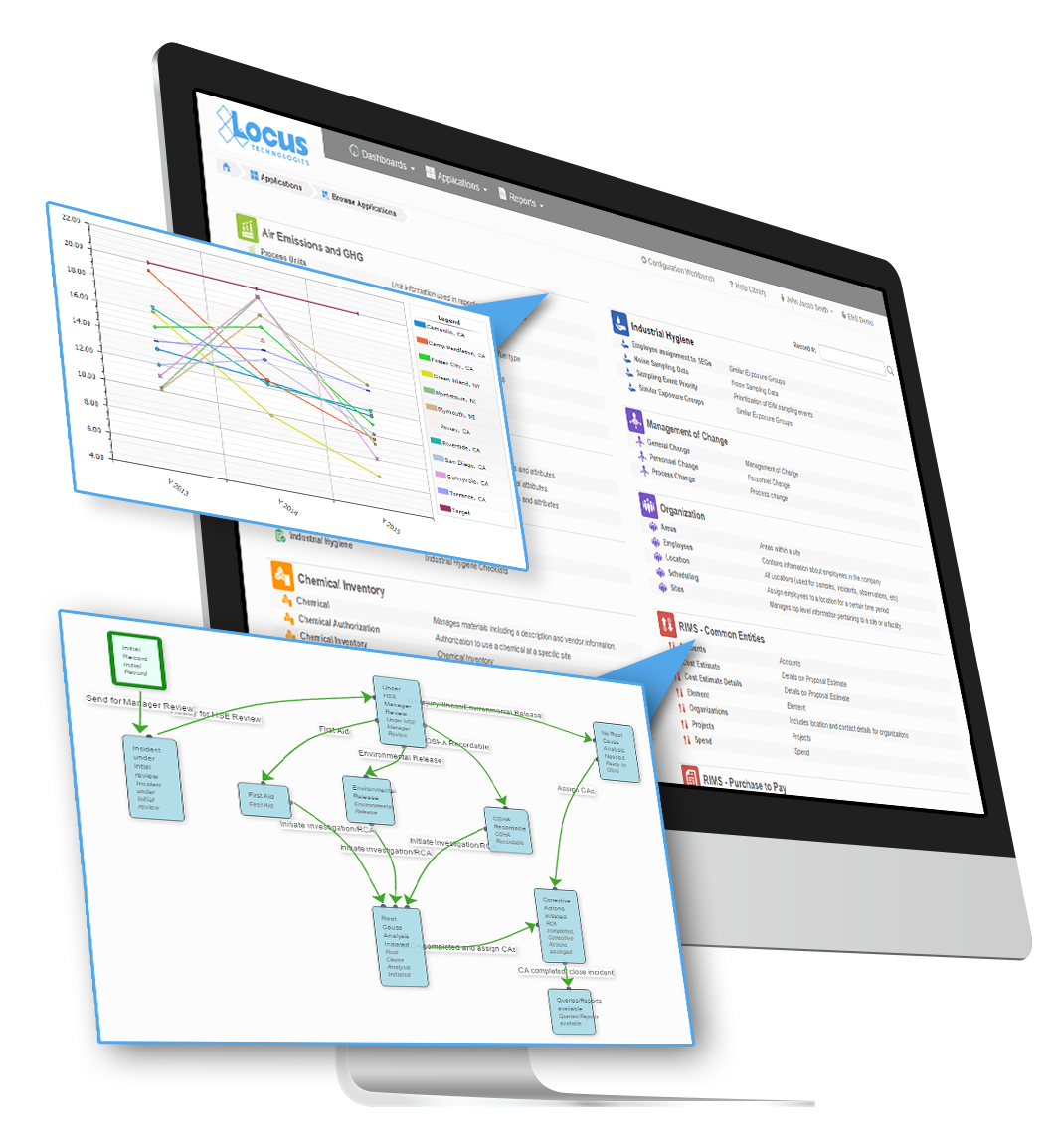 ---
Locus Waste Management
Locus' Waste App started in the mid-1990s as a robust desktop software. Over 20 years later the basic functions remain the same, but the usability, integration, and features evolved with the industry. The software moved to the cloud, taking advantage of integration with EPA and vendor cloud systems. The Waste App is now part of Locus Platform's basic offerings, integrated with Tasks and Compliance and Sustainability and any customer designed apps.​
​So whether you want to submit an eManifest to EPA, or prepare your biennial report online, Locus' Waste App will make this necessary process more streamlined and accessible to users.
eWaste App Then: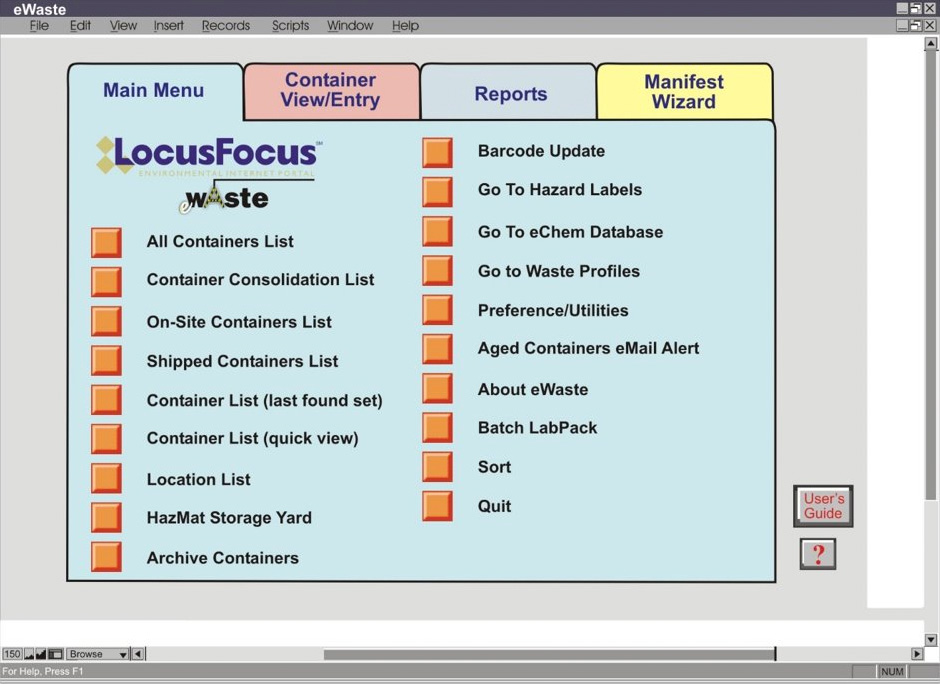 Waste App Now:
---
Locus Sustainability
Locus has provided Sustainability tracking software since the emergence of mass global sustainability awareness in the early 2000s. Our earliest customers were early adopters of sustainable indicators disclosure and Locus has kept up with the demand for indicator tracking regardless of complexity. Locus' staff of environmental scientists and engineers "walked the walk" in our personal and professional lives, making developing Sustainability tracking software a passion and a business. Locus' Sustainability software brings the modern tools to enable a streamlined process, integrated with a wide range of data providers.​
Sustainability App Then: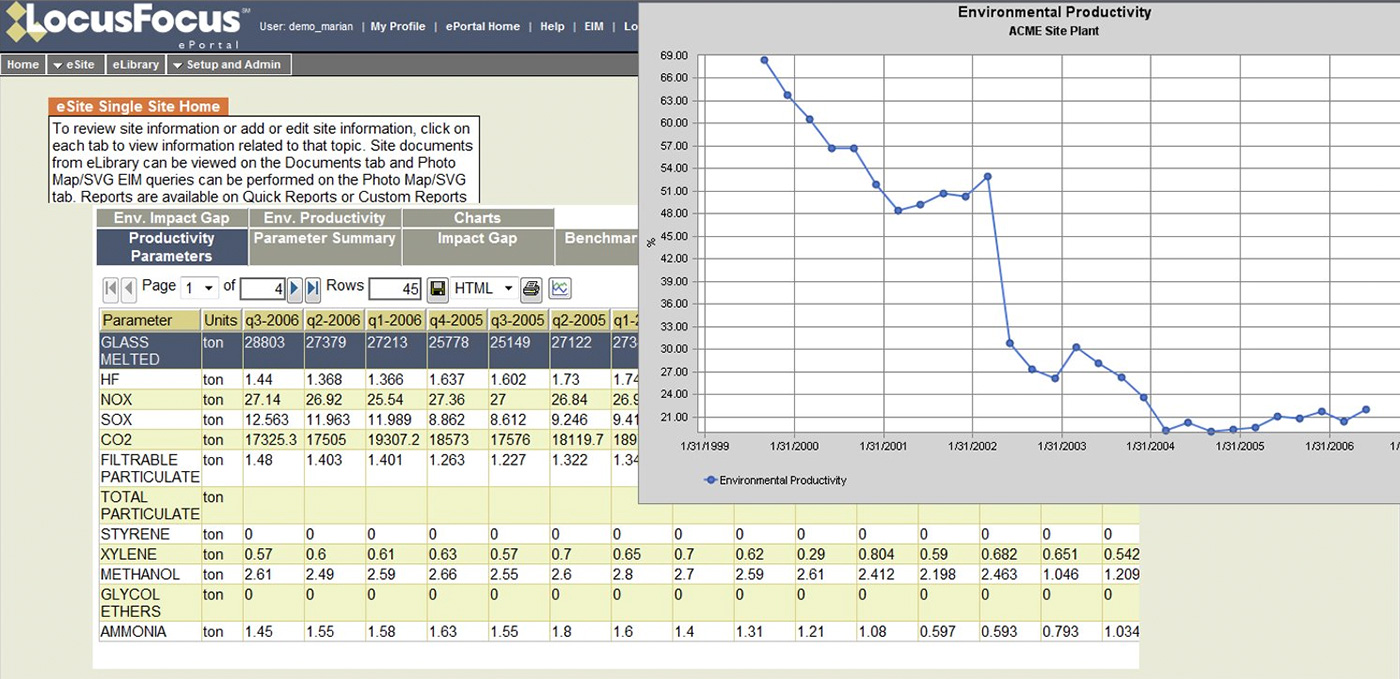 Sustainability App Now: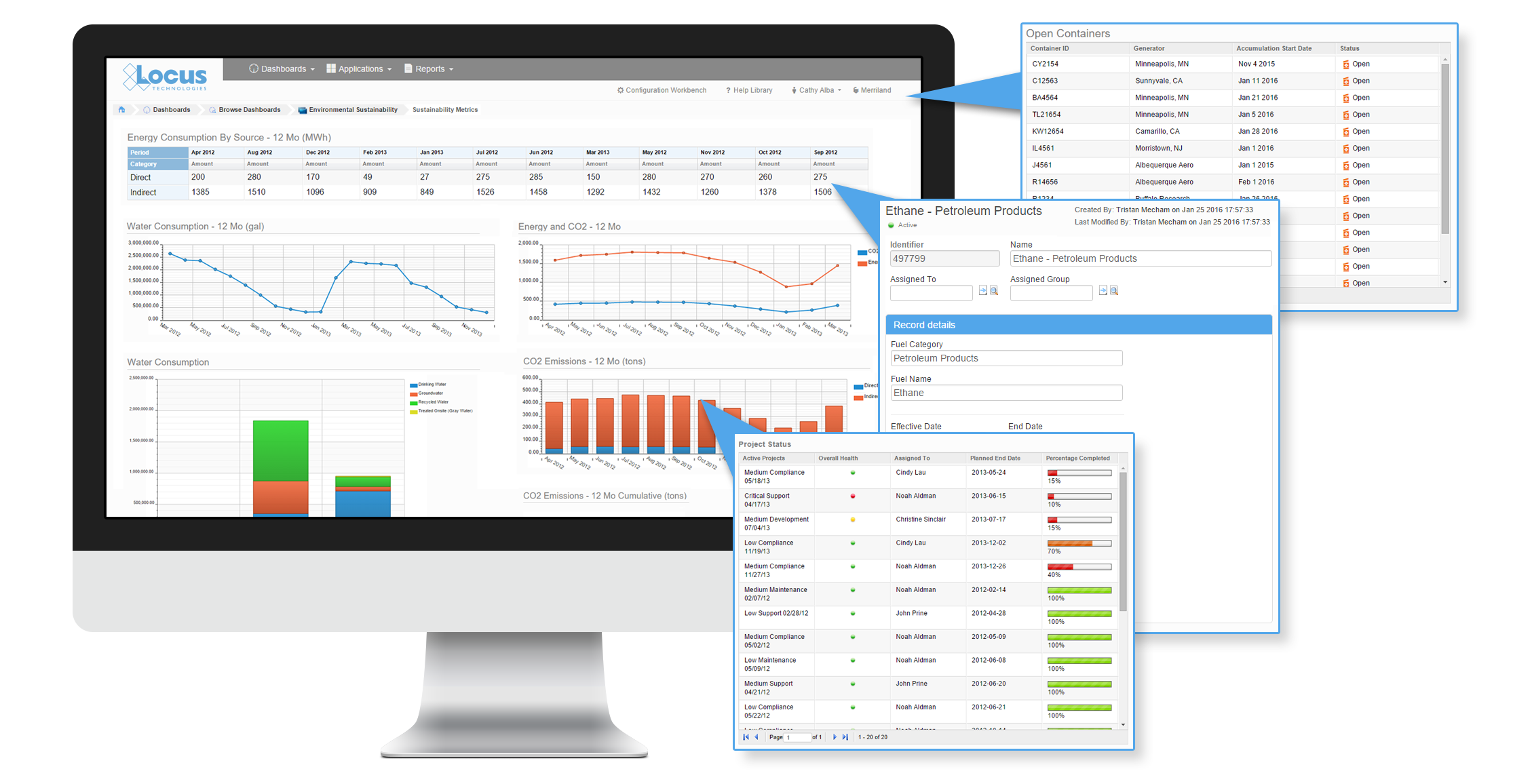 ---
Locus Compliance and Task Management
Compliance Management has been a cornerstone of our EHS software since day 1.  The fundamental workflow and functionality of Locus' Compliance Management has been the focus from the beginning; managing a huge amount of prescribed obligations and requirements. The user interface and experience has grown with the times, as we have improved over two decades. ​
With today's modern requirements, task outcomes can be anything from a simple completion form to a complex inspection checklist. With Locus Compliance and Task Management, outcomes can be recorded simply on mobile devices in the field. With configurable workflows and notifications, custom escalation notifications and approvals can be defined to ensure key compliance obligations are never missed.​
Compliance and Task Management Then: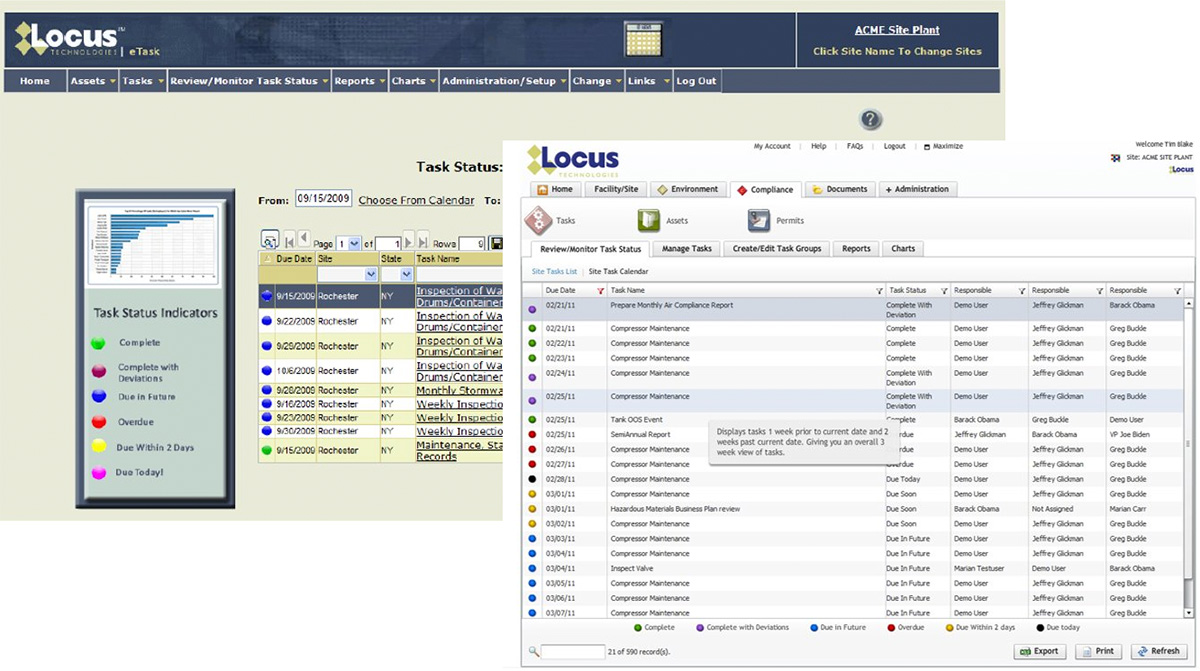 Compliance and Task Management Now: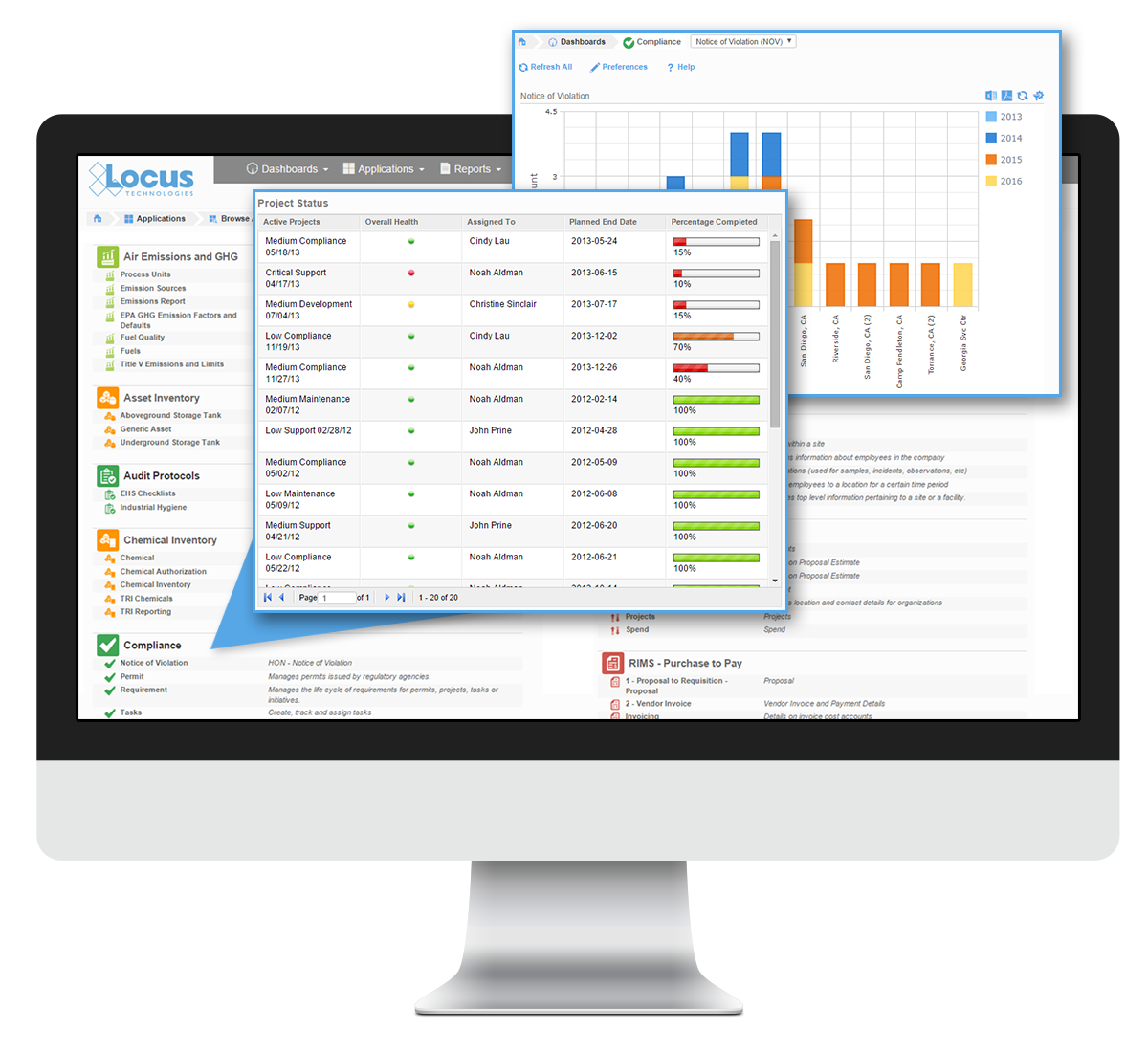 ---
Locus has evolved and innovated SaaS solutions to meet the needs of our EHS and Water Quality customers for over 20 years. As technology and regulatory requirements change, rest assured Locus is working hard so that your organization can be ahead of the curve.