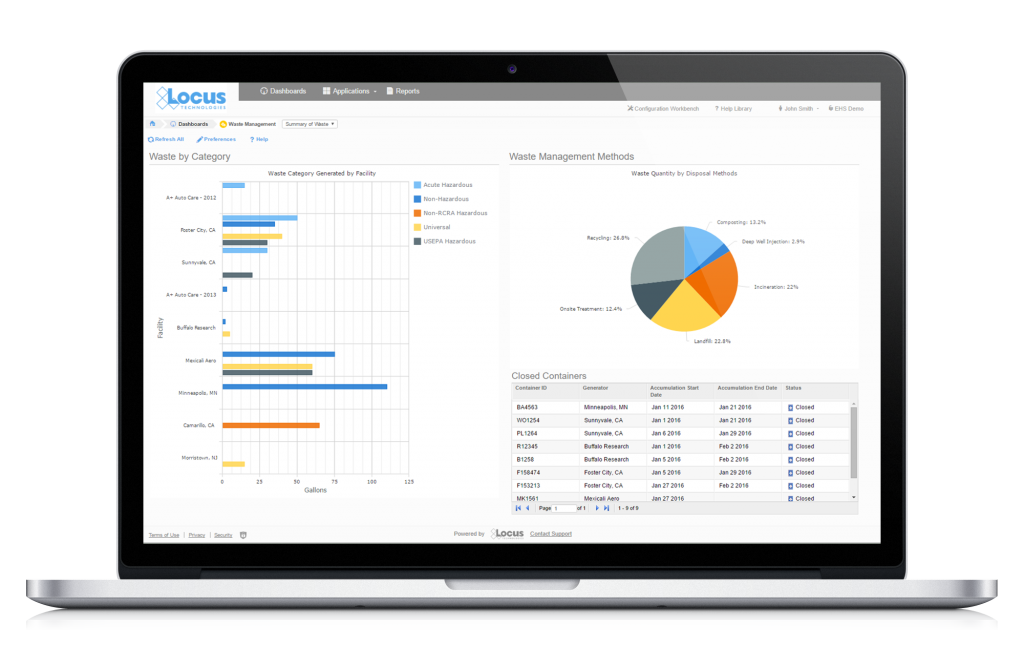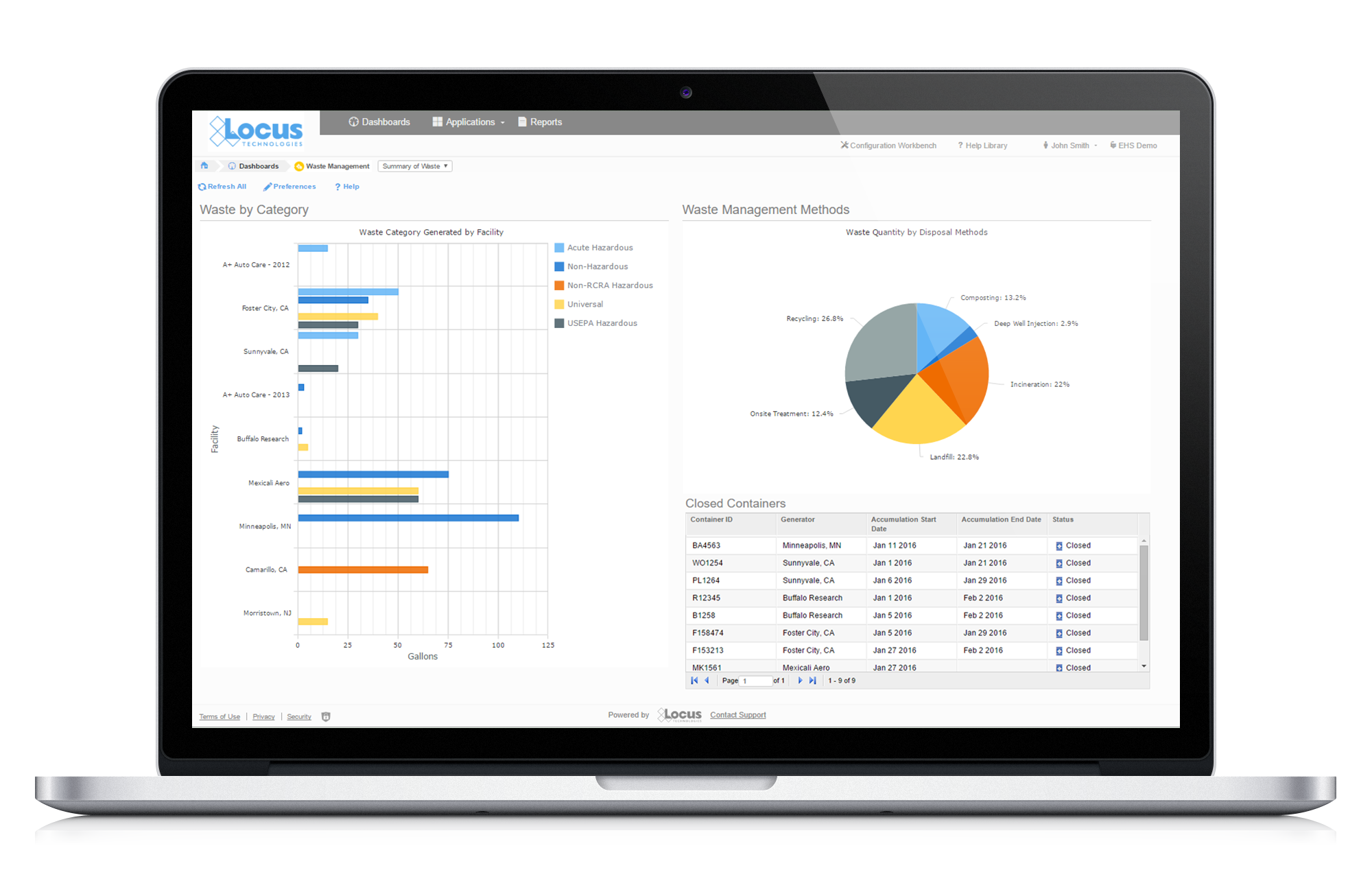 The Locus waste management application is fully integrated with the dynamic Locus Platform and will automate waste management for small and large enterprises.
---
MOUNTAIN VIEW, Calif., 28 February 2017 — Locus Technologies (Locus), the leader in cloud-based environmental compliance and sustainability management software, introduces a powerful waste management application to Locus Platform. Our new waste management app redefines how companies organize and manage their waste profiles and support EPA reporting requirements for hazardous and non-hazardous waste. With the click of a button the platform will be able to generate waste manifests, shipping labels or other documents populated with data from your records. The Locus Platform, a true multi-tenant SaaS, presents a highly flexible, user-friendly interface to meet individual organizations' environmental management needs.
Nearly everything that doesn't leave your facility as a product eventually becomes waste that needs to be tracked, managed, disposed of, and reported. Regardless of hazardous, universal or recycling waste stream, Locus Platform is ready. Locus' waste module brings an organized approach and workflow process to schedule, sample, and analyze results.
One of the standout features that Locus Platform offers is the ability to generate new waste profiles. The flexibility of the platform allows users to create these manually, link to Locus' EIM system or a third party's testing results. You will be able to quickly reuse existing profile sheets, only updating the changed information. The platform will help consolidate your profiles in containers or whole areas, and features built in maps to help your transporter know exactly where to go to pick up the ready waste. Users are able to manage the composition of profiles through adding multiple chemical components to the profiles and accounting for their make-up of the whole profile.
Locus Platform is ready out of the box to track waste at any number of locations. You are able to add or remove waste containers, storage locations, etc. from your generating facilities, and allow any user to create their own way of organizing their data by generating filtered dashboards. At the enterprise level powerful dashboards will help you understand how each facility is generating waste, and how it is being handled. With the platform's flexibility, facility information can be automatically populated based on the user credentials, saving your team time and frustration.
With Locus Platform's waste management module you will also have real-time insight into your generator status. If your facility is expecting growth we can help you understand when you may reach small quantity generator status, setting up notifications when you approach the threshold limit. Forms will also automatically adapt to a change in status, prompting users to provide different data points when your generator status has changed. The new waste application is fully mobile-enabled to track container location and ensure storage compatibility in satellite accumulation areas. When paired with Locus' EIM system, the tool can also track all of the waste sampling and characterization processes, and use that information directly to generate waste profiles.
"Waste management processes require coordination between EHS managers, field staff, laboratories, TSD facilities, and other parties. For compliance purposes, it is critical to make sure that information is exchanged correctly and comprehensively between all of these entities in a timely manner. The Locus Platform gives you the notifications, mobile tools, and reporting tools to make waste management processes seamless for any organization. For companies that need to characterize hazardous waste and track detailed analytical data for profiling, this solution integrates directly with the Locus EIM system, giving an expanded toolset for validating and reviewing laboratory data." said J. Wesley Hawthorne, President of Locus.